In today's post, we are going to talk about the conversion's optimization on the web.
The first is to know what kind of conversion we have and therefore, what is our objective. If we have a services' web, what we are looking for is for users to contact us to hire them. This is called "lead conversion" or "potential customer". On the other hand, if our website is an eCommerce, our conversion will be called "online sale", that is, someone buying a product through our website.
Whatever our goal, we can rely on different tools to optimize our website and increase the conversion rate. We must look at what changes are to be able to change. For example, in a website where we want to get contacts through forms or calls, we will have to try to give these elements as much visibility as possible.
In an eCommerce, what we will try to improve will be the purchase process so that users find the products they are looking for, and thus avoid losing conversions in the purchase' last phase, which is what we call "checkout" or "purchase process".
Usability track and user conversion path
At this point, our goal is to know the behaviour the user has on our website to optimize it and know where we must show the call to action to take you to the conversion. To do this, we will rely on user recording tools and heat maps.
Some of the best-known tools are Yandex Metrics and Hotjar, but there are many more. The important thing is to know how to choose the one that best suits your needs and resources.
Recording sessions
In the users' recordings, we can see if there is an error in the different devices existing today, since according to the device, browser and the operating system the way in which the user views the content of our website may vary.
This system consists of making a video to the users' screen with which we will see all the mouse movements and where it is clicked. To do this, you must change your website privacy policy and you will never be able to access the user personal data, such as password, telephone or emails unless the user finishes them by providing a form on your website.
Heat maps
Heat maps are another very powerful tool to know the steps that users follow in the different pages of our website. There are heat maps of many types: scroll maps, click maps, link maps…
Each one will give us a perspective and with them, we can track different things. For example, with the scroll maps, we will be able to know if the users are arriving until the end of our pages and, if we have a form at the end, we will know if it is necessary to change something to foment the arrival to this and to the contact.
Another very powerful map is the click map because with it you can measure which CTAs are working better, that is, if the text or the position of any of them encourages the user to contact us.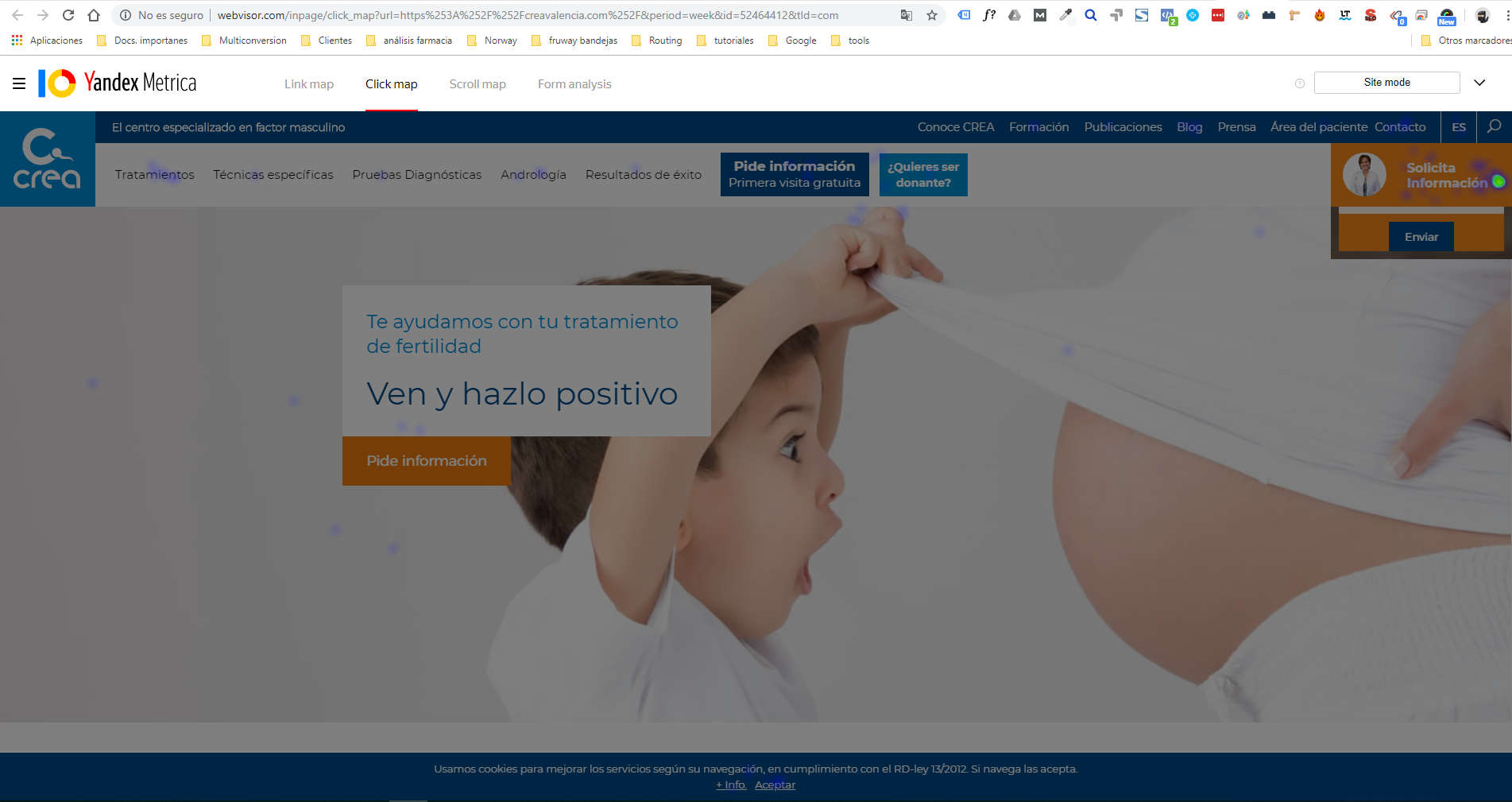 Content tests or structure
Another option that is used a lot to the web improvement is promoting conversions as the already known Test A / B. These are tests with two different versions of the same page.
Thanks to this, we can see if changing content, button colour or the position of any element helps us improve the conversion on our page. For this, there are also several tools, although we always advise the Google tool: Google Optimize. This tool is free and has a perfect connection with our Analytics and Google Ads accounts.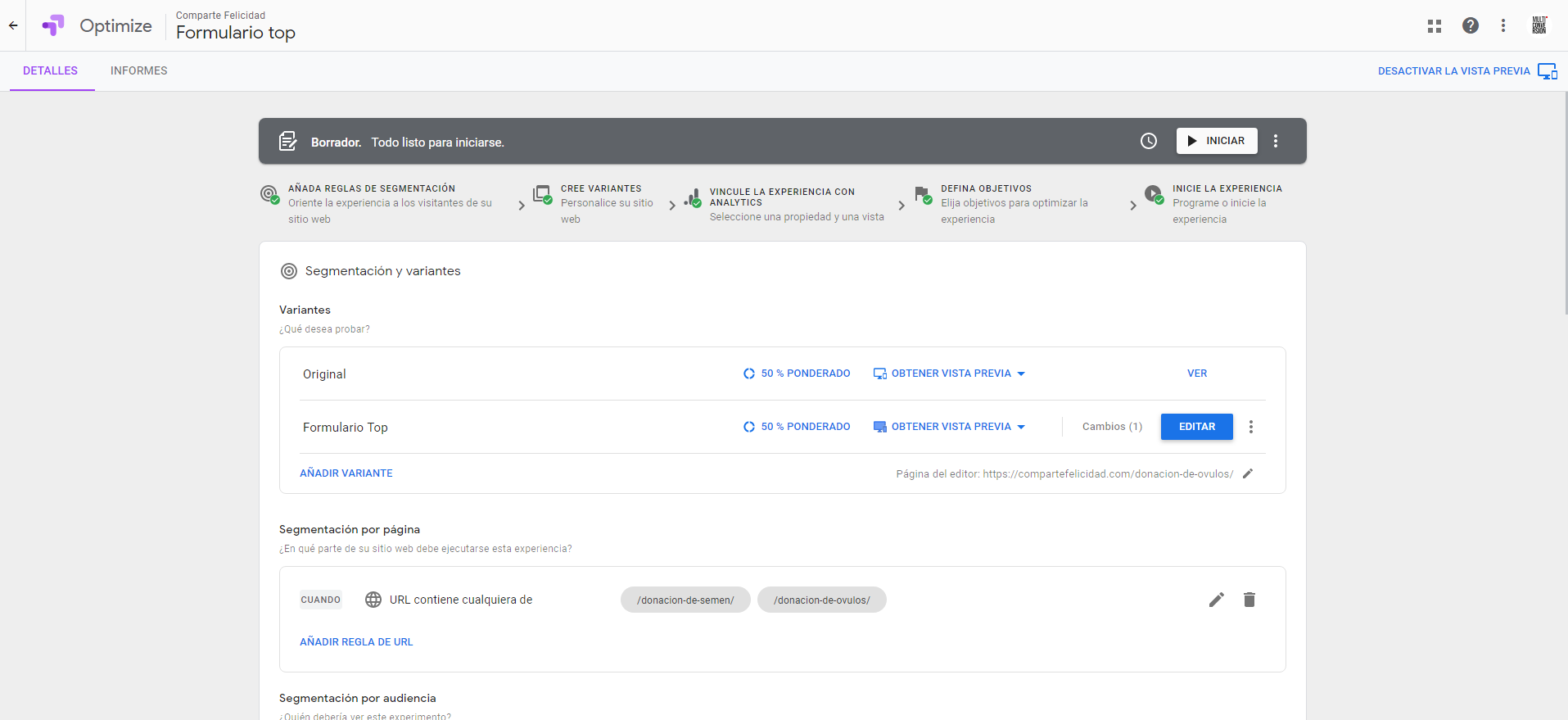 From Analytics we can check our results and the tool itself will tell us with a 95% probability which version works best for the goal we have indicated.
With all this, we can optimize our website and guide the user through it to encourage contact or purchase action. To obtain the best results, the most important thing is to be very sure of the objective we want to achieve and to look for the optimization of separate elements over time, that is, it is best to have only one test at a time to know what has been the change that this conversion improvement has brought us.