This acronym refers to the concept of Conversion Rate Optimization, in other words, to optimize the conversion rate.
Therefore, we could define this marketing term as the set of techniques aimed at achieving a greater percentage in the achievement of objectives within a web.
What is the conversion rate?
Let's clarify what this metric means before going deeper into CRO. Basically, the conversion rate is the result of the number of goals achieved among visitor traffic to a website. The exact formula is usually expressed in percentage, so it would be achieved goals/traffic x 100.
This data, although it depends a lot on the website, the sector and the competition, is considered optimal when it is above 1.5% and, from then on, everything that can come up is a success. However, the average of websites is below 1%, hence the great concern on how to improve this number.
How to face and analyze the CRO 
Many companies believe that introducing more traffic this data will improve, which is totally wrong. You may increase your income by introducing more traffic, but if the conversion rate is still low you cannot grow proportionally and we will have to make a lot of efforts to get traffic knowing that it will only convert a very small percentage, which is very inefficient.
The CRO is based, mainly, on improving sections of a website, always oriented to make the user experience as good as possible, making the conversion process convenient and quick for the user. Therefore, we will make changes in relation to usability, information architecture, page loading, etc. That is, concepts closely linked to the UI (user interface design) and UX (user experience).
The exact formula of the conversion rate is usually done in percentage, so it would be: goals achieved / traffic x 100

To improve it we will have to analyze previously where we can improve or where we are losing our users. For example, the cart abandonment rate refers to users who arrive at the "cart or basket" step and then do not convert; if the abandonment data is very high, we will have to work on improving that page and evaluate why those users have not come to buy when they were so close to the purchase.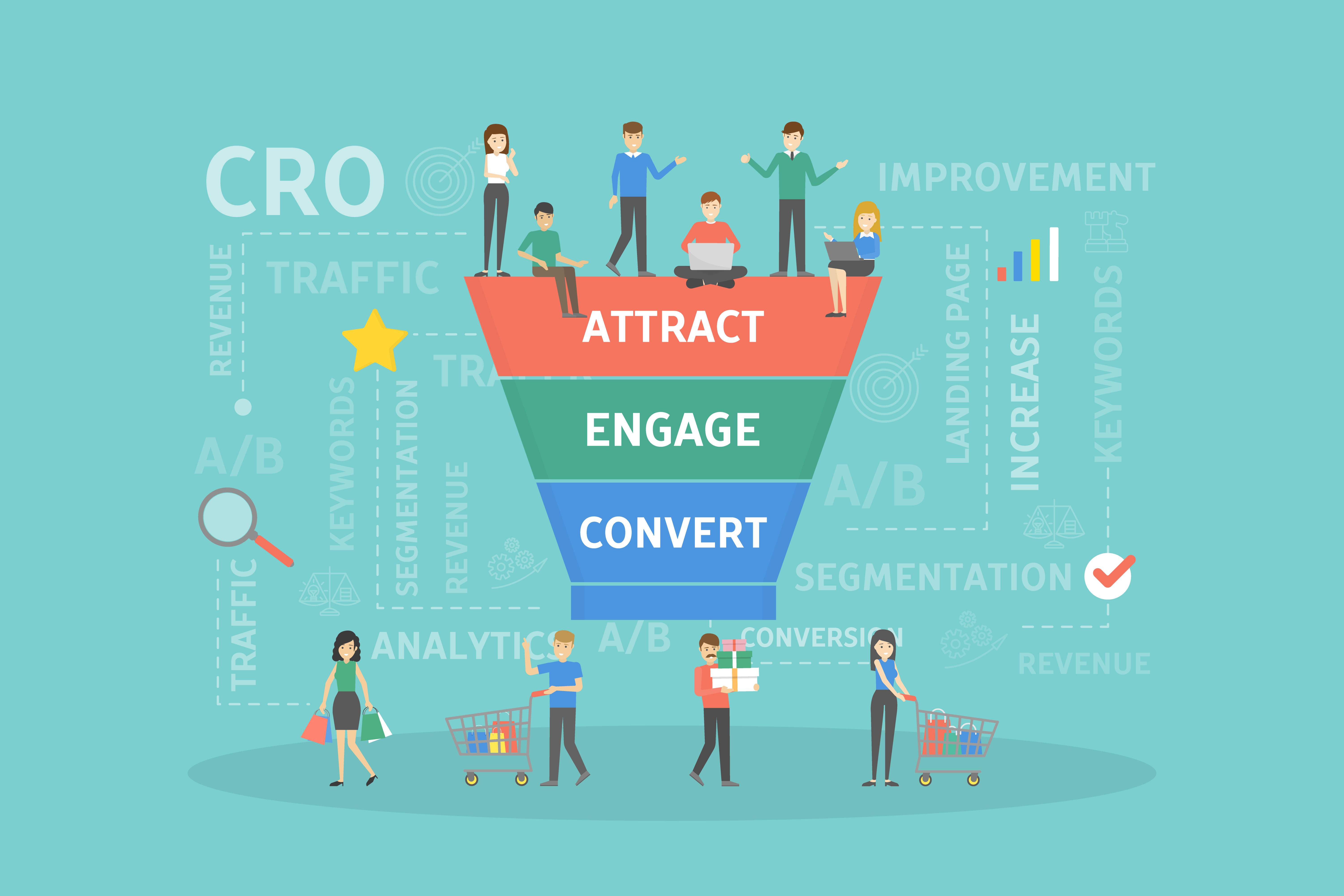 Techniques to improve the CRO 
As we mentioned in the previous point, the key is to analyze and evaluate to know where and how to act. Therefore, we offer you some tools to improve:
Web traffic analysis: evaluate where you lose your customers, which pages work better or worse (you can look at metrics such as the time spent on the page or the conversion rate) and how to optimize them.
Easy and intuitive purchase process once we make the effort of capturing potential customers and the process to get the purchase or the lead. It must be measured in detail, so it must be an important focus in our CRO strategy.
Heat maps and recordings: there are several tools in the market that make this function. It will give us a vision of how the user reacts to parts of the web and key elements such as buttons or CTA (call to action).
The A/B tests before making any changes, we can evaluate different versions and which offers better results, before moving to the final version. From the location of a form to small changes in the text can influence whether or not to increase the conversion rate.
Customer satisfaction surveys It is important to know the opinion of our clients, both for good and for bad, because it will give us a more objective view and a very interesting amount of information that we can apply to our website.
Do not forget the mobile, users are increasingly more likely to navigate via mobile, so having the web optimized for those resolutions is essential. Focus your strategy always first on the mobile
Neuromarketing is important: many times, there is no purely rational reason to buy in a specific store, and this is where this point comes into play. Colors, stimuli, impact on consumer needs and many other factors can tip the balance to get the lead or purchase
In short, many advertisers base their strategies on recruitment and forget one key point: improving the user experience on the landing page. If we work on this aspect, we can grow and scale correctly.