All about the first year update of the Google algorithm
Surely, you've already heard news about algorithm updates from big Internet companies, like Facebook, Twitter or Google. In this post, we will focus on the new modifications of the latter.
Google announced these changes to their Twitter account on March 13, where they commented that they had launched a new adjustment in their algorithm, as they usually do several times a year.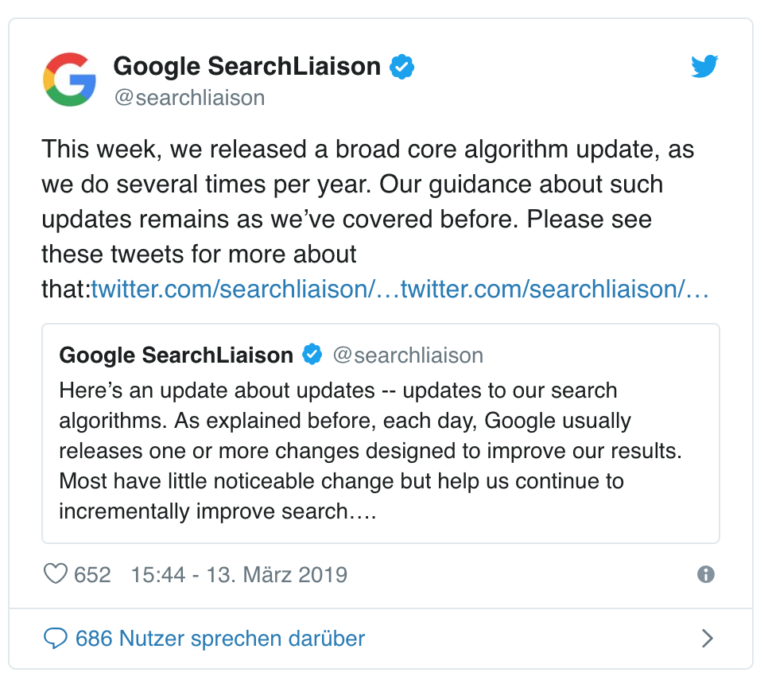 After this type of notifications, all the SEO experts must review if it has been able to affect us and be attentive to the evolution of the facts.
You may have noticed a decrease in the visibility and positions of your website. If so, surely it is because of the last update that Google did in March.
Unlike other occasions, this update does not know what Google has modified and what can be based to modify the positions of the SERPS. You may have noticed the positions changes in this month and have been quite drastic since the immediate effects are seen quickly. After these changes, Google will continue to review your website and re-punctuate all the pages so you can see that these falls are recovering as the new algorithm is stabilizing.
Some of the rumours suggest that this change in the algorithm has affected especially pages belonging to the medical and health sector. You can see some of these comments in specialized SEO forums.
If you have a project of your own or of SEO clients and you do not belong to this sector, we also recommend that you review your data to see if it has affected you. The above-mentioned are assumptions commented by experts in the field, but as pointed by important sources in the sector, this update, named Florida 2, is one of the largest in recent years, which may lead to effects in the organization of the websites in the SERP.

There is no concrete solution to solve this fall; what you must do is keep working on SEO as Google tells us in its SEO guide.
Try to make good and attractive content for your users and optimize the web for better usability and conversion. Also, follow up to see if your project starts to recover any of the positions it has lost, and normalcy is restored.